Menang Tempat Pertama Giveaway Bugslock di Mialiana.com
Greetings and Assalamualaikum to all.
Alhamdulillah. Rezeki buat Shad di mialiana.com kali ini.
Baru ja balik dari kenduri akikah ptg tadi. Balik-balik terus on lappy,
nak tengok senarai pemenang Giveaway Bugslock Gelang Penghalau Nyamuk di
Alhamdulillah, rezeki buat nak bayar wifi ni shad rasa.
Tak tau nak cakap apa ni ha, hepy ada terharu pun ada. Tahniah juga buat semua peserta lain.
Entry-entry review anda terbaik. Apa yang paling utama sekali, Bugslock Gelang Penghalau Nyamuk memang best sangat-sangat, kan. Rasa rugi kalau tak dibeli dan simpan untuk
kegunaan family di rumah.
Bugslock Gelang Penghalau Nyamuk yang ORIGINAL dari Korea
boleh dibeli secara online di :-
================================================
Program Mykad Smart Shopper
Jom Aktifkan Mykad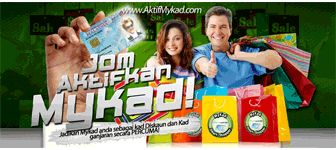 Jika sudi, G+1 Entry/ Like atau Share Entry Jom Aktifkan Mykad Shad ya.
Terima kasih semua. Jasa anda dikenang.