Pelik Kenapa Masik ada 'Please Prove You are not a Robot'
Greetings and Assalamualaikum to all.
Okey, tadi baru dapat detect. Kenapa ada 'Please Prove You are not a Robot' sedangkan
tak pernah pun sebelum ni buat Setting Show word verification dekat bahagian
Post and Comment. Hurm..
Tapi dia muncul jugak, kenapa eh.. Felik betul lah. Ke ini ada kaitan dengan
benda lain yang shad tak tahu. Visitor, ce try tinggalkan komen tengok dekat entry ni,
naik lagi tak 'Please prove you're not a robot' tu.. Hailooo, annoying kan
kalau asyik nak kena verify2 nih. Dan kalau ada sapa-sapa yang leh bantu shad,
please help me. Tq so much all.
Till then, see ya. Tq
Program Mykad Smart Shopper
Jom Aktifkan Mykad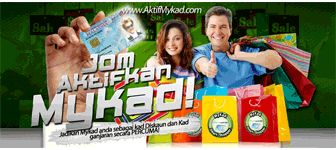 Jika sudi, G+1 Entry/ Like atau Share Entry Jom Aktifkan Mykad Shad ya.
Terima kasih semua. Jasa anda dikenang.