Kenapa Kita Perlukan Suplement?
Greetings!
Kenapa Kita Perlukan Suplement? | Why We Need Supplement?
image from : elliotthulse.com
People said that Supplement is important. A must take in everyday life. Sebagai makanan tambahan. So why is it so important? Keep reading. Kenapa kita perlu ambil suplement?
We always exposed to pollution and free radical which can affect out health.


Kita sering terdedah terhadap pencemaran alam sekitar dan radikal bebas yang menjejaskan kesihatan badan.
Our body needs higher doses for certain nutrients which can only be found from food.


Badan kita memerlukan dos yang lebih tinggi bagi sesetengah nutrien. Hakikatnya nutrien hanya boleh didapati dari pemakanan.
Fruits and vegetable may affected and contaminated from pesticides or other chemicals.


Buah-buahan dan sayur-sayuran mungkin terjejas dan tercemar akibat racun serangga atau bahan kimia lain.
Practicing unhealthy lifestyle such as lack of exercise or sports and smoking.


Mengamalkan gaya hidup tidak sihat seperti kurang bersenam atau bersukan dan merokok.
Most of people ignored balance diet in their eating routine.


Rutin pemakanan kebanyakan manusia sekarang yang tidak hiraukan diet yang seimbang.
Caffeine intake, overdose of sugar and salt cause distraction of nutrients absorption from food.

Gangguan penyerapan nutrien dari makanan, akibat dari pengambilan kafein, gula dan garam berlebihan.
Loss nutrients in food, especially at restaurant, fast food restaurant, overcooked and etc.

Kehilangan nutrien dalam makanan, terutamanya di kedai makan, restoran makanan segera, masak terlalu lama dan sebagainya.
Dengan pengambilan suplement, masalah-masalah di atas ini boleh selesai. Dekat pasaran sekarang ni, memang banyak betul suplement kan. Bagai cendawan tumbuh selepas hujan. Apa-apa pun, buatlah pilihan yang bijak dalam membeli sesuatu. For muslim, HALAL is the priority dan yang pastinya apa yang kita beli tu mestilah kita nak ia sesuai dengan kita dan buatkan kita lebih sihat.
=================================
Program Mykad Smart Shopper
Jom Aktifkan Mykad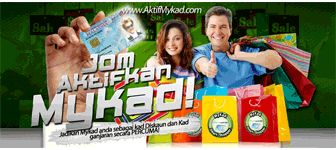 Jika sudi, G+1 Entry/ Like atau Share Entry Jom Aktifkan Mykad Shad ya.
Terima kasih semua. Jasa anda dikenang.